No to sto. I jedziem dalej!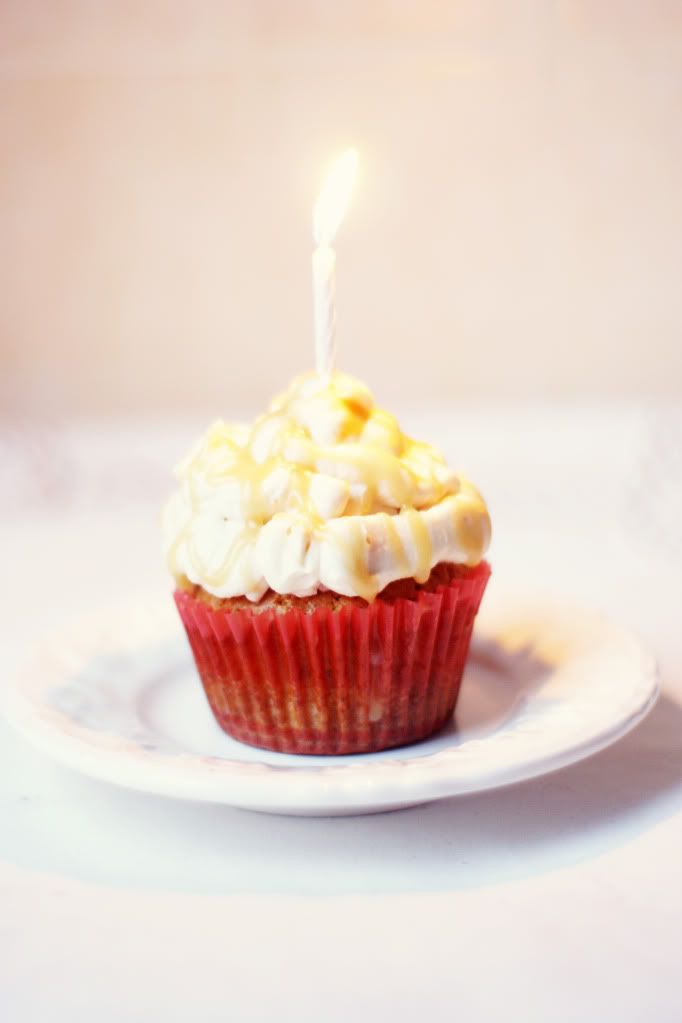 100 postów. Ponad 200 obserwatorów. Niespełna 200 fanów strony na facebooku. Półtora roku.
Z jednej strony żadne wydarzenie, w końcu pisze się te posty i nie przywiązuje wagi do cyferek. Z drugiej strony, znaczy to że zostawiłam tutaj na blogu solidny kawałek historii. Upiekłam dziesiątki muffinek, ciast, nieco mniej ciastek. Wypiekłam kilogramy mąki, zużyłam nieprzyzwoite ilości masła, usiadłam do laptopa przynajmniej sto razy o najdziwniejszych porach dnia i nocy a przede wszystkim - oddałam temu miejscu niezwykłą część swojego serca.
Od momentu pojawienia się pierwszych, nieśmiałych prób blogowania i marnych zdjęć do miejsca w którym jestem teraz upłynęło półtora roku. A ja nie jestem już na pewno tą samą osobą, której zrodził się w głowie szatański pomysł założenia bloga w momencie gdy nastąpiła gwałtowna ekspansja kulinarnej blogosfery ;)
Na setny post - cupcake. Częstujcie się - i dziękuję, że jesteście :)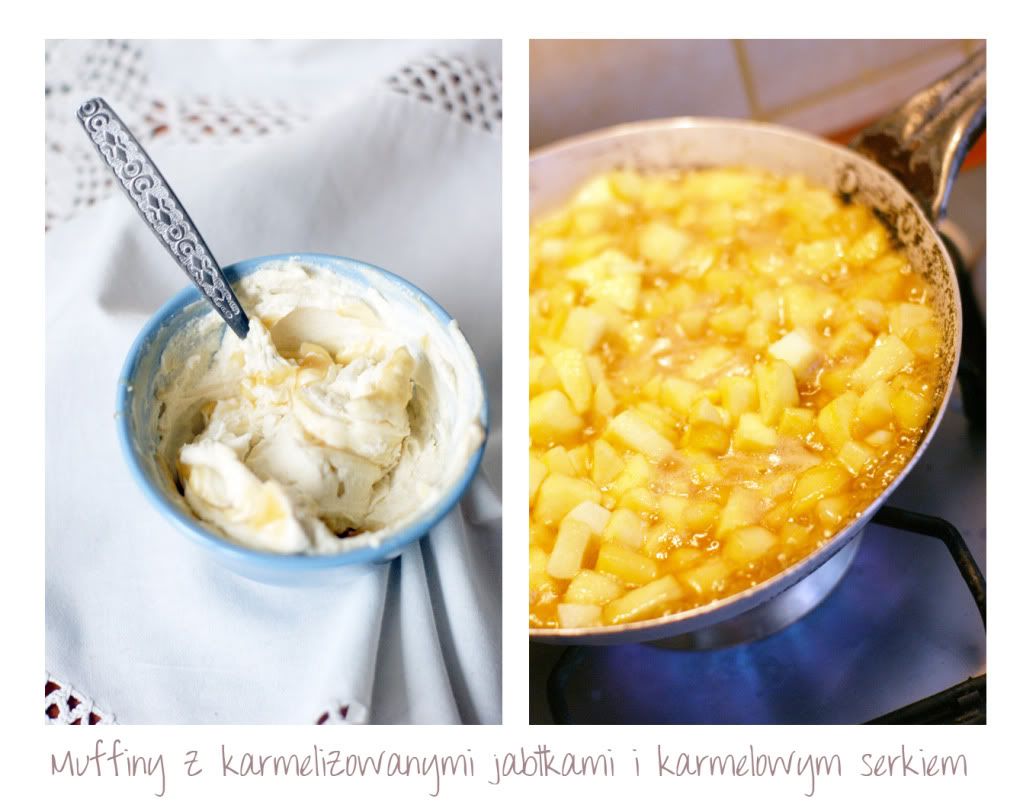 Karmelizowane jabłka:
400g jabłek
70g masła
1/2 szklanki cukru
1/2 łyżeczki imbiru
1/2 łyżeczki cynamonu
Masło rozpuścić z cukrem na niewielkim ogniu. Podgrzewać aż zacznie delikatnie brązowieć. Jabłka obrać, pokroić w niewielką kostkę i wrzucić do karmelu. Dusić przez dłuższą chwilę aż lekko zmiękną.
Muffiny:
jajko
90ml oleju
100g cukru
250ml mleka
1/2 łyżeczki sody
250g pszennej mąki
2 łyżeczki proszku do pieczenia
W jednej misce wymieszać mąkę, sodę, proszek do pieczenia i cukier. W drugiej rozbić jajko, połączyć z mlekiem i olejem. Mokre składniki wlać do suchych i niedbale wymieszać, pozostawiając w masie grudy. Przygotować formę na 6 muffinek, wykładając ją papilotkami. Wypełnić je do 1/3 wysokości ciastem, następnie umieścić około łyżki karmelizowanych jabłek na środku babeczki. Zalać jabłka ciastem do nieco więcej niż 3/4 wysokości. Muffiny piec przez ok. 20-25 minut kontrolując stopień przypieczenia. Pozostawić do całkowitego wystygnięcia.
Karmelowy serek
50g masła
1/2 szklanki cukru
100ml śmietanki 30%
200g serka śmietankowego (np. Philadelphia)
Karmel przygotowujemy podobnie jak ten do karmelizowanych jabłek - cukier i masło rozpuścić na patelni, odczekać aż zacznie nabierać głębokiej, miodowej barwy i wtedy dolać śmietankę, nieustannie mieszając. Nawet jeśli cukier znów się skrystalizuje tworząc grudki, późniejsze podgrzewanie karmelu spowoduje, że ponownie się rozpuszczą. Sam proces wlewania śmietanki do gorącego karmelu przebiega dość gwałtownie, więc radzę uważać ;) Karmel pozostawić na dłuższą chwilę do ostygnięcia. Następnie cztery-pięć łyżek karmelu wymieszać z serkiem (tak, aby powstała masa lekko słona w smaku, przełamana słodyczą karmelu), a część karmelu pozostawić do dekoracji. Wystudzone muffiny udekorować masą z serka, a potem karmelem. O dziwo - najlepiej smakują kolejnego dnia. Jeśli chcecie podać je drugiego dnia, przechowujcie same muffiny w temperaturze pokojowej, a krem w lodówce.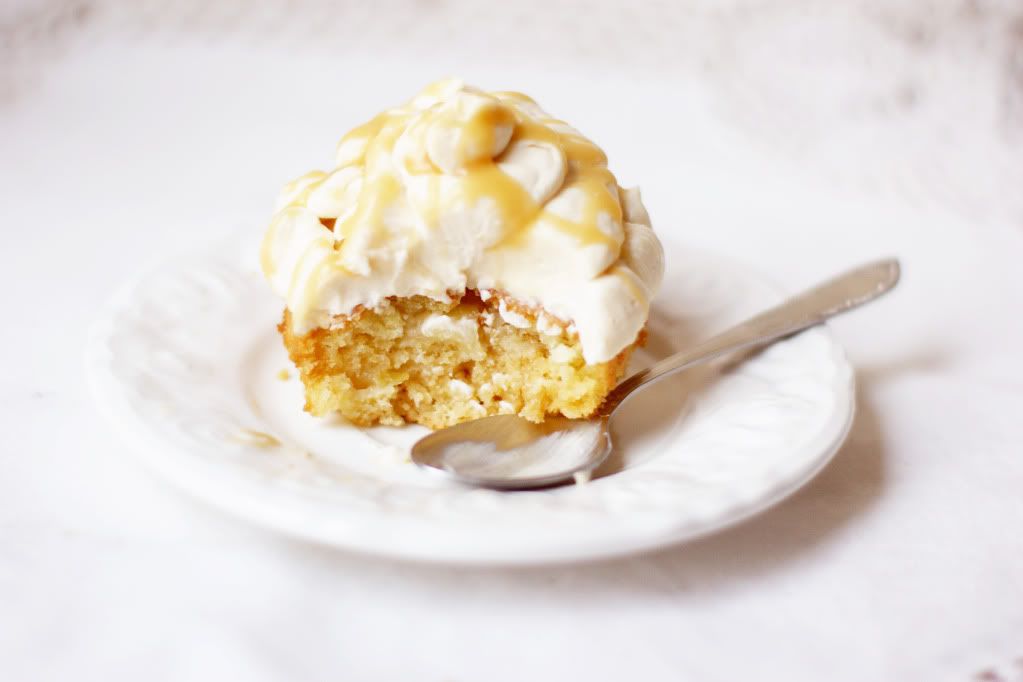 P.S. Dziękuję bardzo za wyróżnienia - tych faktów trochę zebrałam w poście poświęconym One Lovely Blog Award w lipcu tego roku ->
klik!
i wszelkie próby dogrzebania się do faktów jeszcze nie znanych byłyby po prostu przejawem megalomanii ;-)